What would you get if you crossed a Pilgrim with a type of cracker?
JOKE OF THE DAY
Educational Focus: Play & Learn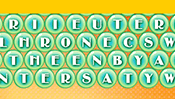 Destroy the balls by forming words with 3 to 5 characters.
Fan Pick of the Week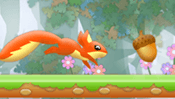 This squirrel is very hungry, that's why it's looking for acorns. Can you help the the squirrel collecting as many acorns as possible and jumping his way home safely?
Game Spotlight

Play games, win ourWorld money, and get clothing and accessories to create your own style.