What's black and white and red all over?
JOKE OF THE DAY
Educational Focus: Play & Learn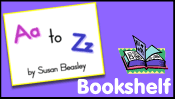 Learn the letters from A to Z in this online Alphabet storybook by Susan Beasley.
Fan Pick of the Week

Tap the ball carefully through each obstacle when the colors match the ball. The color of the ball changes when it passes through a color shifter. Collect stars on your way to buy other balls. Be careful not to pass through the wrong color, or you'll have to start all over again.
Game Spotlight

Play games, win ourWorld money, and get clothing and accessories to create your own style.